Testimonials
A note sent from Jonathon Ford in the UK.  Thanks Mr. Ford!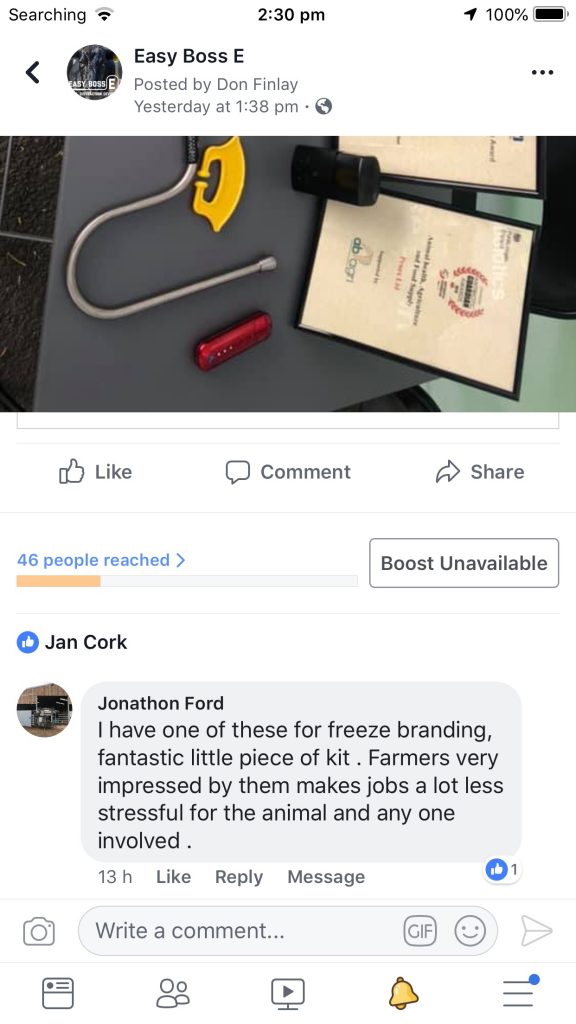 This family had one animal whose fear and head movements gave trouble getting an ear tag in safely.  They used the Easy Boss E oral distraction device to calm her and get the tag in without further risk.  🙂
Form the UK: With the use of the Easybosse device, this cow quietly accepts a calf that is not hers and lets it feed.  Less stress for calf, cow and owner!
Testimonial from Grayson Ross Brandon Manitoba, Canada, Owner of Mosside Shorthorns: "Used EBE today processing cattle before turnout to pasture. Prebreeding vaccinating cows and giving mineral boluses. EBE on one side of the mouth, bolus gun on other side of mouth. Worked great to get them chewing and swallowing the boluses without fighting them."
These are the outcomes we are getting from producers who are actively using EASY BOSS E, and we are constantly finding more uses weekly from very happy Farmers!"
Testimonial from Hank and Maria Franken, from Rivers Manitoba, Canada, producers of Purebred Black Angus: "We used EasyBossE on a heifer that wouldn't let her calf drink. What would normally take hours of repeated attempts only took minutes with the heifer allowing the calf to drink without kicking once EasyBossE was removed. We are very pleased with the results and feel confident to recommend to others. It's definitely a peace of mind tool to have on the farm."
Dr Craig Whalley, Aldergrove British Columbia, Canada:  We used the Easy Boss E this fall to calm some very upset cows that were in the chute. We were all very impressed how they immediately became calm and relaxed. Calving will start the middle of March so I'm sure we will be using it again then. I did notice your ad for a show in Manitoba. Best wishes for 2019 and keep in touch.  Regards, Craig
Mervyn Williams, Coolup, Western Australia:  Hi Don.  We used the Easybosse E for the first time on Monday.  What a difference it made to the state of mind of the flighty heifers!!  Once chewing on the stick they were completely relaxed and we were able to complete all the work necessary with no stress for the user or the recipient.  My Son in Law said "we had paid for it with this first use".  The rest is a bonus.  Best regards, Mervyn Williams, Coolup, Western Australia
Dr Anne Kernaleguen and Staff, Stoughton Veterinary Services at Stoughton Saskatchewan, Canada:  Yes, we (vets and techs) have used it several times in clinic. It has been very helpful for tagging, bulls that won't settle for semen testing, lancing abcesses, and for administering an IV treatment in the jugular vein.
And check out our facebook page:  Easy Boss E on facebook
Photos