About Easy Boss E
The Easy Boss E company's journey begins and ends with cattle. The development of our company traces to simple and natural cattle behaviour: chewing.
There are very few countries where cattle are never individually handled. The one on one interaction of man and bovine is our company's focus. Make it safer, easier, quicker, stress free and compassionate.
The delivery of medications orally using the Easy Boss E device is also an important part of the journey.
We are based in Canada, Australia and the UK with production occurring in all three countries.  Distraction cattle handling is not new. I have used it since 2008 in Western Australia in Bos Taurus breeds.
The Easy Boss E company wants to share with the world what our instrument will do for veterinarians, technicians, handlers, producers.
From Dr. Don Finlay BSc DVM
and the Easy Boss E team
The Team
Dr. Don Finlay
Don was raised on a stock farm in Western Manitoba, Canada, near Lenore and attended a one room country school (BLAIR) until year six.  His high school education was at Virden, Manitoba and this was followed by a BSc with major in Zoology from Brandon University.
His veterinary degree (DVM) was attained in 1978 at the University of Saskatchewan, Saskatoon, Saskatchewan.  Don has practised for 25 years in Canada, has been practising in Australia starting 2004, and has experience in New Zealand (2012 locum).  In 2021 he was awarded the Manitoba Veterinary Medical Association's Life Membership.  Don's other interests  include collecting aboriginal artifacts of Manitoba, hunting game and cycling.
"I enjoy all aspects of farming but in particular enjoy cattle production. I enjoy working and learning from cattle owners, cattle handlers, cattle carers and anyone interacting with cattle.  I have had many mentors in the handling and care of cattle including my first ones:  my mother and father. "
"I was fortunate to become involved with "distraction cattle handling" in Australia around 2007. Using a simple oral insert instrument to settle individual animals while caught is the core of distraction cattle handling. This welfare friendly manner of distracting cattle from fear and pain is my prime focus now."
"Please read the biographies on this page of a really dedicated team who help me bring the EASY BOSS E device and distraction cattle handling to the world. One of the many highlights of this 2018 year has been their support and belief in distraction cattle handling."
Terri Sharp
I've been involved with Easy Boss E pretty much from the start, around ten years ago. The Easy Boss E was recognised and developed by Dr Don Finlay as a humane and effective bovine distraction device.
This tool is an invaluable aid to the cattle industry, and I have been happy to document and put together some of the information/media available to Farmers, Stockmen, Veterinarians and Technicians, or anybody in the cattle industry who genuinely care about the well-being of their animals and the many benefits that this oral distraction device can offer to their business.
I look forward to seeing just how far we can go worldwide with the advantages and conveniences that the Easy Boss E presents.
Patrick Finlay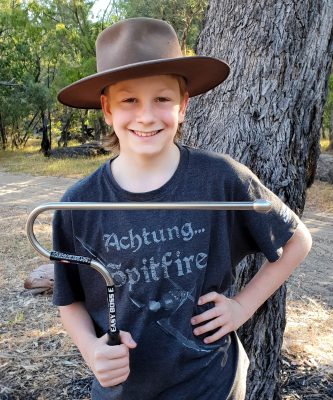 Hi, I am Patrick Finlay, the youngest person of the Easy Boss E team.  I am in year seven at the Bunbury Cathedral Grammar School and am 12 years old.  I have been working with Easy Boss E for five years.  Before I was aware of that the device existed, I saw my dad using it to calm down upset cattle.  I recently enjoyed going to the Brunswick show, where I told interested visitors about the magnificent device at our display table.  I normally go with my Father when he has work with cattle and enjoy that very much, unless I am at school.
My hobbies include: studying the science category in school, going with my father to work, going to the beach, bushwalks and photography with my Mother, preserving nature, entomology, skiing and cattle-work.
Dr. James Comrie
Dr. James Comrie has been engaged in mixed animal veterinary practice for 35 years, and has owned and operated the Minnedosa Veterinary Clinic in the province of Manitoba since 1986.  A 1983 graduate of the Western College of Veterinary Medicine in Saskatoon, Saskatchewan, he has always nurtured a special interest in beef cattle medicine and surgery.  While his veterinary career has found him responsible for the health of all domestic animal species, he also is engaged in cereal and oilseed crop production and the management of his own commercial beef herd.
Jim has developed a passion over the years for performance in the world of the arts. He has enjoyed vocal solo and choral performance with many different groups, harbors a decades long passion for musical theatre performance and, more recently, solo performance in dramatic prose reading. He feels incredible satisfaction while on stage, and recognizes there's nothing like the rush of elation that follows a performance for an appreciative audience!
In 2018, Dr. Don Finlay marched into his life or more accurately, back into his life!  Don was the only employer Jim was ever responsible to in his working career.  From 1983 to 1986, Don was his boss and mentor in the wonderful world of rural veterinary medicine at Souris, Manitoba.  A strong, dedicated and unyielding work ethic was solidified under Don's tenure, serving him well when he purchased his own practice in 1986.  When Don 'reappeared' in 2018, tucked under his arm was a curious, simple and sturdy stainless steel instrument that he was exploring the possibility of launching to those of us in this world who handle livestock!   He christened his discovery the Easy Boss E, and from the outset of its use in the world of both livestock husbandry and veterinary medicine, its effectiveness has been unparalleled.  Best of all, it requires no battery nor a computer chip nor the internet for it to work . . . every time!  The Easy Boss E instrument has over and over and over again proven its worth.
A parting word of advice. . . "Try it, you'll like it!"
David Morrison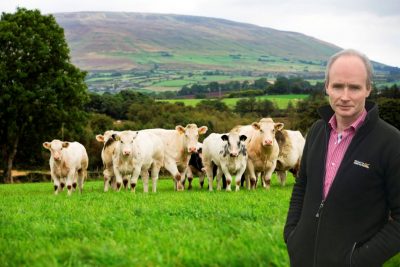 David farms in County Antrim in Northern Ireland with his parents on the farm where he grew up.  Belgian blue cattle are the Main Focus on the Farm:  breeding bulls reared for sale, along with steers and heifers for fat stock sales.  David has been involved in the sale of livestock semen, visiting farms since the early 1990's and also has interests in the farm seed trade, crop protection and spraying, etc.  Mr. Morrison lives within a mile of the Dark Hedges, now a famous landmark and tourist attraction which has been good for their 'Charlies Self Catering Rental Cottage' situated nearby.
David likes to travel and while visiting a former Irish neighbor now farming in Manitoba, first came into contact with the Easy Boss E oral distraction device.  The device was being used professionally by Dr. James Comrie and his team from the Minnedosa Veterinary Clinic to remove porcupine quills from a number of cows.
"I was totally blown away with the simplicity of the easybosse device, and the effectiveness in the control of the animals without the need of anaesthetic or even a halter.  An easybosse device was purchased there and then for use back in Ireland.  Definitely worth its weight in gold!
Norm Finlay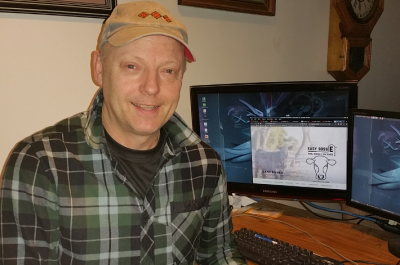 Norm was raised near Virden, Manitoba.  His early years were spent on the family farm where a herd of shorthorn cattle were part of his family's life.  During high school he developed an interest in physics and computers and pursued those with the support of his parents.  He's been employed with Brandon University as tech support and instructor in the Department of Physics and Astronomy for the last 25 years.
"Don had been gathering videos and testimonies of people using the Easy Boss E oral distraction device and he was hoping to share these via the web.  I'd seen the benefits for cattle and cattle handlers and have a bit experience with website creation.  I thought I could learn some new techniques along the way to creating this one, and have done so.   There are some very interesting stories about people using the Easy Boss E device which show its benefits"